Press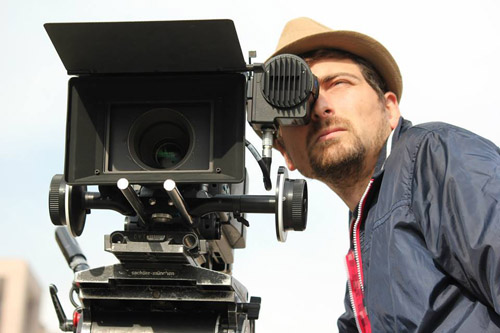 Quick Chat: Filmmaker/DP/VFX artist Mihran Stepanyan
June 21, 2017
Veteran Armenian artist Mihran Stepanyan has an interesting background. In addition to being a filmmaker and cinematographer, he is also a colorist and visual effects artist. In fact, he won the 2017 Flame Award, which was presented to him during NAB in April.
Let's find out how his path led to this interesting mix of expertise.
Tell us about your background in VFX.
I studied feature film directing in Armenia from 1997 through 2002. During the process, I also became very interested in being a director of photography. As a self-taught DP, I was shooting all my work, as well as films produced by my classmates and colleagues. This was great experience. Nearly 10 years ago, I started to study VFX because I had some projects that I wanted to do myself. I've fallen in love with that world. Some years ago, I started to work in Moscow as a DP and VFX artist for a Comedy Club Production special project. Today, I not only work as a VFX artist but also as a director and cinematographer.
How do your experiences as a VFX artist inform your decisions as a director and cinematographer?
They are closely connected. As a director, you imagine something that you want to see in the end, and you can realize that because you know what you can achieve in production and post. And, as a cinematographer, you know that if problems arise during the shoot, you can correct them in VFX and post. Experience in cinematography also complements VFX artistry, because your understanding of the physics of light and optics helps you create more realistic visuals.
What do you love most about your job?
The infinity of mind, fantasy and feelings. Also, I love how creative teams work. When a project starts, it's fun to see how the different team members interact with one another and approach various challenges, ultimately coming together to complete the job. The result of that collective team work is interesting as well.
Tell us about some recent projects you've worked on.
I've worked on Half Moon Bay, If Only Everyone, Carpenter Expecting a Son and Doktor. I also recently worked on a tutorial for FXPHD that's different from anything I've ever done before. It is not only the work of an Autodesk Flame artist or a lecturer, but also gave me a chance to practice English, as my first language is Armenian.
Where do you get your inspiration?
First, nature. There nothing more perfect to me. And, I'm picturalist, so for various projects I can find inspiration in any kind of art, from cave paintings to pictorial art and music. I'm also inspired by other artists' work, which helps me stay tuned with the latest VFX developments.
If you had to choose the project that you're most proud of in your career, what would it be, and why?
I think every artist's favorite project is his/her last project, or the one he/she is working on right now. Their emotions, feelings and ideas are very fresh and close at the moment. There are always some projects that will stand out more than others. For me, it's the film Half Moon Bay. I was the DP, post production supervisor and senior VFX artist for the project.
What is your typical end-to-end workflow for a project?
It differs on each project. In some projects, I do everything from story writing to directing and digital immediate (DI) finishing. For some projects, I only do editing or color grading.
How did you come to learn Flame?
During my work in Moscow, nearly five years ago, I had the chance to get a closer look at Flame and work on it. I'm a self-taught Flame artist, and since I started using the product it's become my favorite. Now, I'm back in Armenia working on some feature films and upcoming commercials. I am also a member of Flame and Autodesk Maya Beta testing groups.
How did you teach yourself Flame? What resources did you use?
When I started to learn Flame, there weren't as many resources and tutorials as we have now. It was really difficult to find training documentation online. In some cases, I got information from YouTube, NAB or IBC presentations. I learned mostly by experimentation, and a lot of trial and error. I continue to learn and experiment with Flame every time I work.
Any tips for using the product?
As for tips, "knowing" the software is not about understanding the tools or shortcuts, but what you can do with your imagination. You should always experiment to find the shortest and easiest way to get the end result. Also, imagine how you can construct your schematic without using unnecessary nods and tools ahead of time. Exploring Flame is like mixing the colors on the palette in painting to get the perfect tone. In the same way, you must imagine what tools you can "mix" together to get the result you want.
Any advice for other artists?
I would advise that you not be afraid of any task or goals, nor fear change. That will make you a more flexible artist who can adapt to every project you work on.
What's next for you?
I don't really know what's next, but I am sure that it is a new beginning for me, and I am very interested where this all takes me tomorrow.